Liposomes for DNA/RNA Delivery
Online Inquiry
Liposomes are multifunctional lipid-based nanoparticles used to encapsulate drugs in lipid-like bilayers to form microscopic vesicles. Some liposomes are commonly specialized for delivery of DNA and RNA molecules in various research and therapeutic applications, and hold good promise in areas such as transgenics, gene editing, RNA vaccines, and nucleic acid drug delivery system development. BOC Sciences has high-end equipment and a dedicated team of experts to design and supply liposomes suitable for DNA and RNA delivery to assist your research in the field of biogenetics.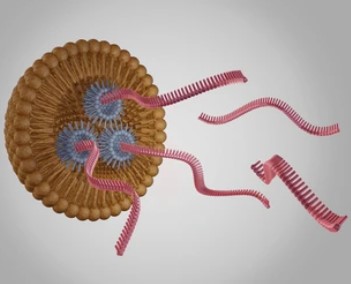 BOC Sciences' Liposomes for DNA/RNA Delivery
BOC Sciences has the precise design and advanced technology platform to rationally customize liposome systems suitable for DNA and RNA delivery. We have a deep understanding of the various liposomes to meet your strategy and application for DNA and RNA cargo. BOC Sciences offers the following liposomal products that are ideally suited for delivery of DNA and RNA.
GL-67 Liposomes are capable of efficiently delivering DNA loads to target cells and enabling the expression of target genes within the cells.
BOC Sciences is committed to providing its customers with high-quality liposomal products and produces and supplies DC Cholesterol Liposomes for DNA/RNA delivery studies.
BOC Sciences offers a number of popular cationic liposome reagents made from popular cationic lipids prepared under sterile/low endotoxin conditions with nuclease-free water for the highest quality.
DOTAP liposomes are lipid nanoparticles composed of DOTAP, which can be used to deliver DNA and RNA molecules into cells. BOC Sciences has developed DOTAP Liposomes with DOTAP content ranging from 0.5% to 50%.
The DOTMA liposomes provided by BOC Sciences can efficiently encapsulate DNA and RNA fragments, with an encapsulation rate of 100%, and can be well taken up by cells to express target genes.
Based on the importance of DODAP liposomes in DNA and RNA delivery, BOC Science is committed to providing high-quality liposomal products and related customization services to customers with DODAP liposome needs.
Why is Liposome Needed for DNA/RNA Delivery?
Susceptible to degradation: DNA and RNA are susceptible to various degradation factors in the body such as nuclease, which may lead to rapid degradation and loss of activity. Liposomes, on the other hand, protect DNA and RNA from degradation for efficient and stable delivery.
Safety and side effects: Delivery of exogenous DNA and RNA may trigger an immune response and result in toxicity. Liposomes are biocompatible, minimizing toxicity and increasing potency.
Targeted delivery: Often DNA and RNA need to be transported to specific tissues or cells to enable targeted delivery for the development of targeted therapies. Liposomes have the advantage of being easily modified for designing a variety of targeted delivery strategies so that nucleic acids enter only the target cells and do not affect non-target cells.
Allowing controlled release strategies: Maintaining long-term or sustained nucleic acid delivery has long been a challenge. Liposomes allow to be designed as targetable controlled release carriers for persistent controlled release of DNA and RNA.
Advantages of Liposomes for DNA/RNA Delivery
Liposomes have excellent biocompatibility and are composed of natural or synthetic lipids that are well tolerated by biological systems. This makes them biocompatible carriers for the delivery of DNA and RNA.
Liposomes encapsulate DNA and RNA, providing protection against degradation by nucleases and other enzymes. This encapsulation helps maintain the stability of nucleic acids.
Liposomes enhance the cellular uptake of DNA and RNA molecules. Their lipid bilayer structure allows them to fuse with cell membranes, facilitating delivery of nucleic acids into target cells.
Liposomes enable customized surface properties to improve targeting and uptake in specific cell types, tissues or organs.
Benifits of BOC Sciences' Liposomes for DNA/RNA Delivery
BOC Sciences is a leading manufacturer and supplier of a wide range of high quality liposome products and customized liposomes assisting in the research and development of nucleic acid drugs and gene fragment delivery.
BOC Sciences performs strict quality control in its manufacturing facilities and adheres to optimized, efficient isolation and purification strategies to ensure that you receive high purity liposome products.
BOC Sciences has a team of experienced experts with more lipid-based designs and delivery systems under development to meet the needs of different nucleic acid therapy programs.
BOC Sciences has state of the art production facilities and optimized liposome production processes, assuring you of higher volume products with shorter lead times.
For more custom services about our liposomes for DNA/RNA delivery , please feel free to contact us.